Demonstration og Fredsmøde
torsdag den 4. april.
På NATO's 70-årsdag den 4. april arrangerer
"Århus mod Krig og Terror" demonstration og fredsmøde.
Demonstrationen starter på Rådhuspladsen kl. 17 under parolen:
Stop NATO's oprustning – Invester i kollektiv velfærd
Der bliver taler af:
Birthe Sørensen, Redaktør på Arbejderen.
Bo Hamburger, Arbejderbevægelsens Internationale Forum, AIF.
Efterfølgende er der fredsmøde på Folkestedet, Carl Blochs Gade 28.
Det Røde Sangkor synger fra kl. 18:30 og der er paneldebat kl. 19.
I panelet er:
Tine Spang Olsen, fredsaktivist fra bl.a. "Stop Terrorkrigen - Ud af NATO", vil tale om NATO's aggressive politik.
Carsten Andersen, talsmand for "Århus mod Krig og Terror", vil tale om en fredelig sikkerhedspolitik.
Tom Paamand, undergravende journalist, freds-lobbyist og formand for "Aldrig Mere Krig", vil bidrage med facts og dokumentation.
Arrangementets grundlag er:
Nej til en ny verdenskrig - drop koldkrigsretorikken, drop opstillingen af nye raketter. For forhandling, afspænding og nedrustning.
Invester i velfærd, ikke i Nato - drop Natos krav om 2 % af BNP til militær. Danske skattekroner skal ikke gå til våbenindustri.
Nej til dansk deltagelse i Natos aggressionskrige - træk de danske tropper hjem og brug pengene på bekæmpelse af fattigdom og genopbygning af de krigshærgede lande, som Nato har ført krig mod.
Jeg er gerne til rådighed med yderligere oplysninger
Med venlig hilsen
Carsten Andersen
Mail: carsten@fred.dk
Tlf. 22 38 52 34
Nordic Peace and
Conflict Resolution Efforts.
Folketinget, 9 April 2019, 16:00-17:45
Jeg viser til tidligere informasjon om Nordisk råds fredsseminar i samarbeid med Centre for Resolution of International Conflicts (CRIC).
Rapporten kom i stand etter en rekommandasjon fra Nordisk råd til Nordisk Ministerråd. Nordisk Ministerråd har finansiert rapporten, mens Nordisk råd og CRIC er «eier» av seminaret.
Presidiet ønsket at parlamentenes utenrikskomiteer skulle involveres i seminaret, og jeg ber derfor om at delegasjonssekretariatene sørger for å videresende informasjonen til de ansvarlige kollegaer.
En oppdatert invitasjon med påmeldingsfrist og praktiske opplysninger vil bli sendt ut i løpet av mars.
Seminaret er for forskere, politikere, sekretariater og andre med interesse for Nordisk fredssamarbeid.
In the current, multipolar world order, Nordic collaboration on peace and conflict resolution efforts is gaining momentum again.
At this seminar, a report commissioned by the Nordic Council of Ministers on Nordic peace and conflict resolution efforts will be launched.
The report focuses on how Nordic countries work together on peace and conflict resolution, present the current structures of Nordic cooperation and map challenges and potentials for future collaboration.
Three cases of Nordic collaboration will be discussed:
1) Nordic integrated efforts on peace and conflict resolution in Afghanistan,
2) Nordics working together in the UN and
3) Nordic networking on the woman, peace and security agenda.

Location: Fællessalen, Folketinget, Christiansborg, 1240 København K

16.00-16.05 Welcome and introduction: Jessica Polfjärd, President of the Nordic Council, Member of the Swedish Parliament
16.05-16.20 Keynote: Peter Wallensteen, Professor, University of Uppsala (TBC)
16.20-16.40 Presentation of the rapport: Isabel Bramsen and Anine Hagemann
16.40-17.15 Comments on the report:
Henrik Thune, Director, NOREF (TBC)
Erkki Tuomioja, Member of the Presidium of the Nordic Council, Member of the Finnish Parliament
Magnea Marinósdóttir, International Political Scientist
Christian Friis Bach, Secretary General, Danish Refugee Council
17.15 – 17.45 Q&A

Vennlig hilsen/Kind regards
Arne Fogt Bergby
Internasjonal seniorrådgiver/
International Senior Adviser
Mobil: +45 60 39 42 47
arfber@norden.org
Nordisk Råd
Nordic Council
Nordens Hus
Ved Stranden 18
DK-1061 København K
Telefon: +45 33 96 04 00
www.norden.org
-------------------------------------------------------
Video fra folkemødet 2018
Flyer om oprustningen:
Militærudgifter hvem truer hvem
(flyer - F5)
NEJ TIL OPRUSTNING OG KRIGSDELTAGELSE
JA TIL KOLLEKTIV VELFÆRD
(flyer - F6)

Deltag i International konference på nettet d. 10/4 - 2019
Dear friends and colleagues,
We cordially invite you to participate in an Abolition 2000 international webinar on April 10, 2019 on the topic Global nuclear disarmament events and campaigns.
The webinar will provide an overview of nuclear disarmament processes and events happening in 2019, and the main nuclear disarmament campaigns and actions by parliamentarians, mayors and civil society. The webinar will introduce Abolition 2000 working groups, campaigns and affiliated networks, and it will provide opportunities for activists to discuss and/or join various campaigns and events. Click here to register.
The webinar is the second in a series of such webinars being organized by Abolition 2000, the first one being in January 2019 on the INF Treaty. The webinars are open to anyone involved in nuclear disarmament or wanting to get involved.
The webinar will be held in two repeating sessions: Session 1 is scheduled to enable participation by those living in Asia and the Pacific. Session 2 is scheduled to enable participation by those living in the Americas, Europe and Africa. Each session will last for 1¾ -2 hours using the Zoom conferencing platform and will include a short technical introduction to the zoom conferencing functions, in addition to the presentations, discussion and conclusion.
Session 1: Timed for participants from Asia and the Pacific.
April 10: 9:00 Islamabad (Pakistan), 9:30 Delhi (India), 10:00 Almaty (Kazakhstan), 12:00 Perth (Australia), 12:00 Manila (Philippines), 13:00 Seoul (South Korea), 13:00 Tokyo (Japan), 14:00 Sydney (Australia), 16:00 Auckland (New Zealand). April 9: 18:00 Honolulu, (United States)
Speakers:
John Hallam (Australia), Human Survival Project. Nuclear Risk reduction
Neshan Gunasekera (Sri Lanka), International Association of Lawyers Against Nuclear Arms. Nuclear weapons and international law
Matt Robson (New Zealand), Parliamentarians for Nuclear Non-proliferation and Disarmament (PNND). Parliamentary actions
Tamkeen Saeid (New Zealand), The Peace Foundation. Youth actions.
Alyn Ware (New Zealand), World Future Council, PNND. Economic dimensions – move the nuclear weapons money
Session 2: Timed for participants from the Americas, Europe and Africa:
April 10: 9:00 San Francisco (United States), 10:00 Edmonton (Canada), 12:00 Santiago (Chile), 16:00 Reykjavik (Iceland), 17:00 London (United Kingdom), 18:00 Berlin (Germany), 19:00 Amman (Jordan), 19:00 Moscow (Russia)
Speakers:
Reiner Braun (Germany), International Peace Bureau. Nukes out of Europe
John Burroughs (USA), Lawyers Committee on Nuclear Policy. Nuclear weapons and international law
Jackie Cabasso (USA), Mayors for Peace. Actions by cities
Arielle Denis (France), International Peace Bureau. Treaty on the Prohibition of Nuclear Weapons
Bruce Gagnon (USA), Global campaign against nuclear power and weapons in space. Missiles and space weapons
Marzhan Nurzhan (Kazakhstan), Abolition 2000 Youth Network
Vanda Proskova (Czech Republic), Economic Dimensions - Move the Nuclear Weapons Money
Tony Robinson (UK), Pressenza. Chair and introduction to Abolition 2000
Aaron Tovish (Mexico), Zone Libre. Nuclear risk reduction
Monica Willard (USA), United Religions Initiative. Interfaith actions and events.
Please click here to register online. Once you register we will send you details about how to connect to the webinar via zoom.
For more information visit www.abolition2000.org or contact alyn@lcnp.org.

Yours sincerely
Jackie Cabasso, Alyn Ware and Tony Robinson
On behalf of the Abolition 2000 Coordinating Committee
D. 11/11 2018 - 100 året for
1. Verdenskrigs afslutning.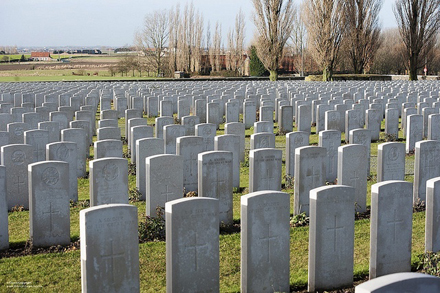 Foto: UK Ministry ofDefence.
War Graves at Tyne Cot Cemetary, Belgium. Thousands of graves of British and Commonwealth soldiers at the Tyne Cot cemetary in Belgium.
Link til billede - 1. Verdenskrig
1. verdenskrig blev officielt startet fordi 2 mennesker blev dræbt. Dette burde være et anliggende for politiet ikke for militæret. Det burde have været muligt at løse med forhandlinger. Her blev ca. 6,5 mio civile dræbt og ca. 9,7 mio soldater dræbt.
Esbjerg Rådhus d. 18/2 til d. 1/3 2019
Hovedbiblioteket Esbjerg d. 11/3 - 9/4
Med fernisering d. 11/3